SP5 Donald J. Hoss
A teletype clatters. The voice-wire crackles instructions. A controller barks his orders into a handset; A few yards down the hall a receiverman acknowledges and makes necessary adjustments. Thirteen miles away a transmitterman brings up another instrument and tunes the setting so that communications traffic will continue to flow.
Outside, "Gerry carts"--wagons--carry their passengers on. dirt roads past village huts .built of sticks, stones, arid mortar.
A study in contrasts, Ethiopia, with its primitive and still unconquered beauty, presents daily challenges and opportunities for adventure to the men of the United States Army Strategic Communications Command Europe Telecommunications Center (USASTRATCOM-Europe) in Asmara, Ethiopia.
Frequently, those men who receive orders for duty there don't even know where it is.
Ethiopia is in East Africa, just inland from the "horn of Africa."
Ethiopia is a land that brings together the Apollo recovery missions and the last descendents of King Solomon and the legendary Queen of Sheba-who really did exist.
It is essentially a high tableland with great plateaus more than 8,000 feet high. The country provides immediate change from coastline , desert to towering mountain peaks, from barren slopes to lush savannahs. Asmara and the nearby USASTRATCOM-Europe facility in Asmara are located atop one of these plateaus.
In Asmara, the second largest city in Ethiopia, it is still possible to trace the process of civilization. As you drive between home and work, you will see people cultivating their fields with wooden plows which differ little from those used in the age of the great pharaohs of Egypt. They are pulled by oxen. Young boys herd their goats, sheep; and cattle down the main street of the towns, or gather animal dung to make fires and fences.
Modern communications in Asmara began in 1941 When the British liberated the province of Eritrea from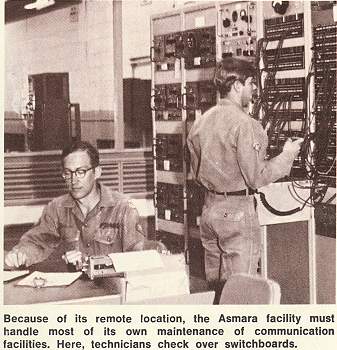 Italian rule. The British set up a radio station at "Radio Marina" in an area that is now a housing community for military personnel and their families. This location provided ideal weather conditions, an altitude of 7,600 feet, remoteness from any other major electronic complexes, and proximity to the Equator which allows communications relatively free from interference.
In the fall of 1942, "Radio Marina" was taken over by the U.S. Army Signal Corps. It has grown from a small staff of 48 persons to a strength of several hundred.
The primary mission of STRATCOM Asmara is to operate and maintain a major relay station, part of the Defense Communications System. Other missions include providing support to Asmara Diplomatic Telecommunications service; support to CINCSTRIKE/ CINCMEAFSA, and acting as military frequency coordinator with the Imperial Ethiopian Government for U.S. Government agencies in the Middle East and Africa. Asmara also provides part of the National Command Authority (NCA) Dedicated Communications Network, and serves as a backup station on the Apollo recovery missions.
STRATCOM Asmara operates the largest high-